MODEL FEATURES
Model 1: Unit 15S (150-300 ft2)
Dimensions (cm): 69x12.5x14.5
Lamps: 2 x 15W
Capacity: 60m3/h
Weight: 5kg
Model 2: Unit 30L (300-400 ft2)
Dimensions (cm): 110.5x15x15
Lamps: 2 x 30W
Capacity: 90m3/h
Weight: 7.5kg
---
How it Works...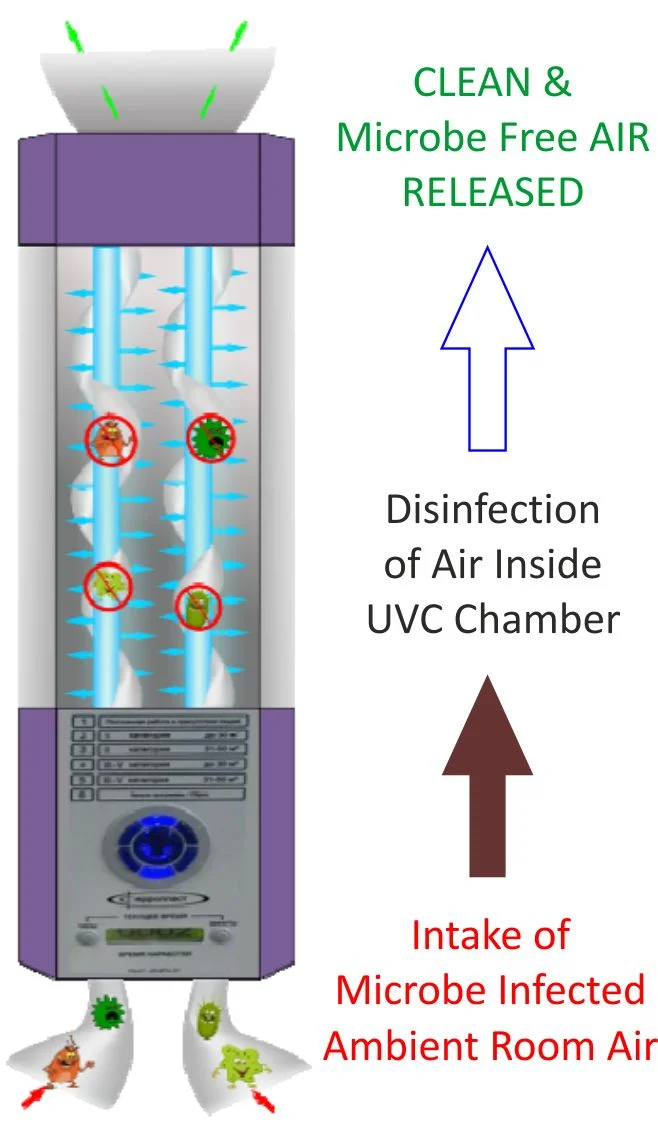 Shorter and invisible wavelength of 253.7 nanometer (nm) of UltraViolet-C (UV-C) germicidal light is used to disinfect airborne pathogens.
Controlled fans and special powder coated aluminum ensures that UV-C remains within the chamber and delivers enough dosage to deactivate the Air Borne microbes.
Delivers worry-free continuous operation in presence of people, to provide 99.99% sterilised room without releasing ozone and leak proof UV radiation.
---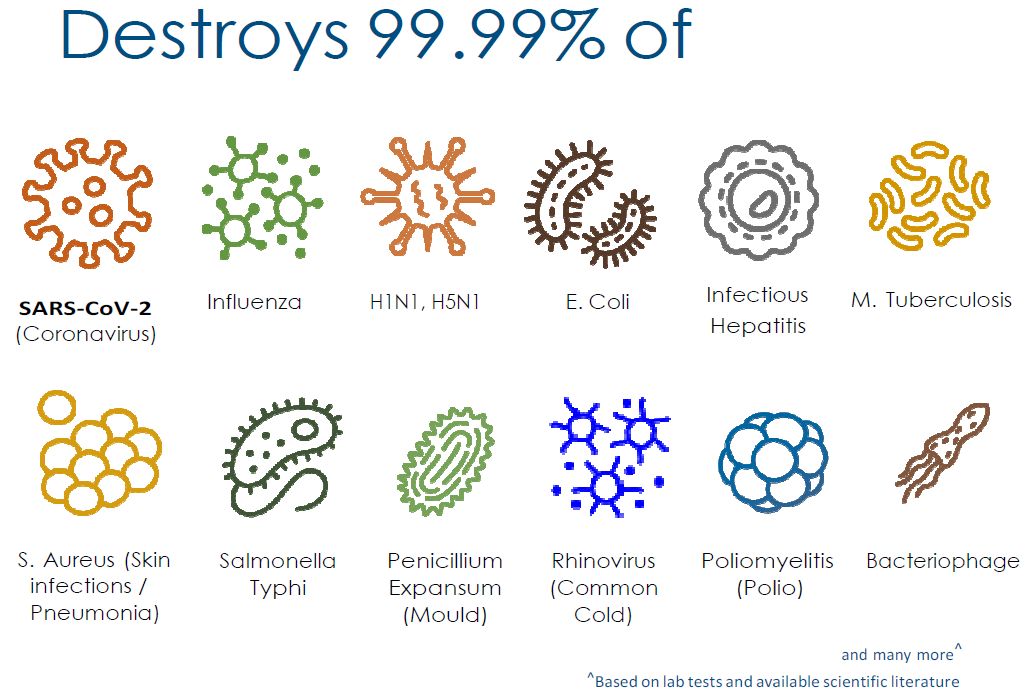 ---
Salient Features
Destroys 99.99% of the airborne bacteria, virus, yeast, mould and other pathogens*.
Based on Ultraviolet-C which has been the industry standard for sanitisation for over a half century.
Metal with powder-coated paint, impact and chemical resistant polycarbonate ensures leak proof, safe enclosure of UV radiation inside the unit.
Suitable for continuous operation in the presence of people.
Useful during and post pandemic
Ozone free
Patent filed in 2007
Lifetime of lamps of 9000 hours (~4 years#)
Portable with mobile stand (Optional)
1 year carry in warranty
# Calculation based on standard office hours. Nil cost based on UV lamp life only. Electricity consumption is <2p per hour.
---

---
FAQs
Q: How do these devices work? Are they safe for infants and pets?
A: These devices are designed to work by intaking infected ambient air, disinfecting it in a closed UV-C chamber and releasing clean and disinfected air back into the room, while ensuring that the harmful UV radiation do not leak from the carefully designed UV-C chamber.
The devices are tested and certified by Russian, Indian and European, labs for its safe usage in the presence of humans, plants and animals.
Q: Is Coronavirus airborne according to WHO?
A: Yes, as per WHO, Coronavirus is being spread through air. The devices provide an additional layer of safety against not just COVID-19 but also diseases like, TB, Influenza, H1N1, Common Cold, Hepatitis, etc.
Q: How are the efficacy tests of these devices performed?
A: A lab capable of carrying out environmental microbiology study measures the amount of airborne microbes in the air before and after the use of our devices. The baseline count of microbes is either used as ambient or is artificially injected. Based on the reduction in microbes with time the efficacy is measured.
Q: I already have an air purifier, why do I need air disinfectant?
A: Household air purifiers are designed to filter out the pollutants in the air. Presently, there is no scientific study which reliably confirm time dependent efficacy of air purifiers against filtering airborne pathogens. Our devices are specially designed to kill various microbes using enclosed Ultraviolet-C. UV-C has been the industry standard for sterility for over half a century.
Q: How big a room can it disinfect?
A: Depending on the model, a closed room with floor area of up to 400 ft2 can be disinfected with 99.99% sterility using a single unit. It is recommended to install multiple units in a room bigger than 400 ft2. Eg. in a 800 ft2 room, 2 devices can be installed at opposite ends, and so on.
Q: Can a bigger device be installed in a smaller room?
A: Yes, using our UV Air Disinfectant in any room smaller than its recommended size will only increase the device's efficiency.
Q: Does the amount of pathogens in the air affect the performance of the device?
A: The devices work continuously irrespective of the amount of the airborne pathogens in the room. The amount of microbes does not limit the working of the UV-C technology or any other equipment in the device, thus, the efficacy of these devices will remain the same. This has been tested and confirmed by the laboratories in different conditions.
Q: Can Installing this Unit stop ongoing treatment ?
A: No. This is a Preventive Measure and an additional layer of protection to disinfect the Air that we keep breathing. Hence the ongoing treatments of any ailment whatsoever should not be stopped. Also this is not alternate therapy to your medicines. This only supplements your preventive measure to stay healthy. Further one need not be sick to use this unit, as this is a preventive measure and it applies to one and all.
Q: How much maintenance or servicing is required for these devices?
A: These devices come with a 1 year warranty and require minimal attention. Its easy to replace UV-C lamps come with a lifetime of 9000 hrs. In case of any problem, our dedicated 24x7 service team will be more than happy to assist.
Q: What kind of installation is required for these devices?
A: These are plug & play devices, there is no setup required.
Q: How our UV-C based Air Disinfectant works.
A: Our innovative UV-C based Air Disinfectant are designed to kill maximum bacteria and viruses without being harmful to humans, plants and animals, by keeping the UV-C within the specially coated chamber. It disinfects the air and works like an air purifier by processing the infected air in the room, but instead of just a physical filter, it uses a strong dose of enclosed UV-C radiation to disinfect that air of various bacteria and virus, included SARS-CoV-2 virus. It finally releases the clean air back into the room. Through this air disinfectant process & careful encasing of the product, the UV radiation stays inside the product and never comes in contact with people in the room. We are the best and the most reliable UVC germicidal lamp suppliers.
Q: What is UV-C Technology?
Ultraviolet is a part of invisible band of light coming from the sun. It is further categorised in to UV-A, UV-B and UV-C based on their wavelengths. UV-C is a shorter wavelength light and is capable of disrupting wide range of pathogens' RNA/DNA leaving them unable to cause diseases, whereas UV-A and UV-B can't be used to sterilise. Our vision is to offer the best UVC air disinfectant for viruses.
Why UV-C Technology?
Sanitizing with UV-C light has been an industry standard practice since the mid-20th century. Use of UV light to fight tuberculosis was a 1903 Nobel Prize winning discovery in Medicine. Today, hospitals and laboratories use UV-C light to keep their facilities and equipments sterile. An invisible part of light called UV-C is capable of disrupting wide range of pathogens' RNA/DNA leaving them unable to cause diseases. We provide the best UV-C air disinfectants for destroying viruses and bacteria. If you are in search of a dependable and a reliable UVC germicidal lamp disinfectant supplier, then make your purchase with us. We extend an array of products, to choose from.
For Product Catalogue and more details please Contact Us.
Amit Electronics are appointed as authorised distributors for (made in Russia) 'Ferroplast UV-C Air Disinfectants' in Maharashtra and Gujarat Region by Rolicare International.
---
Installed at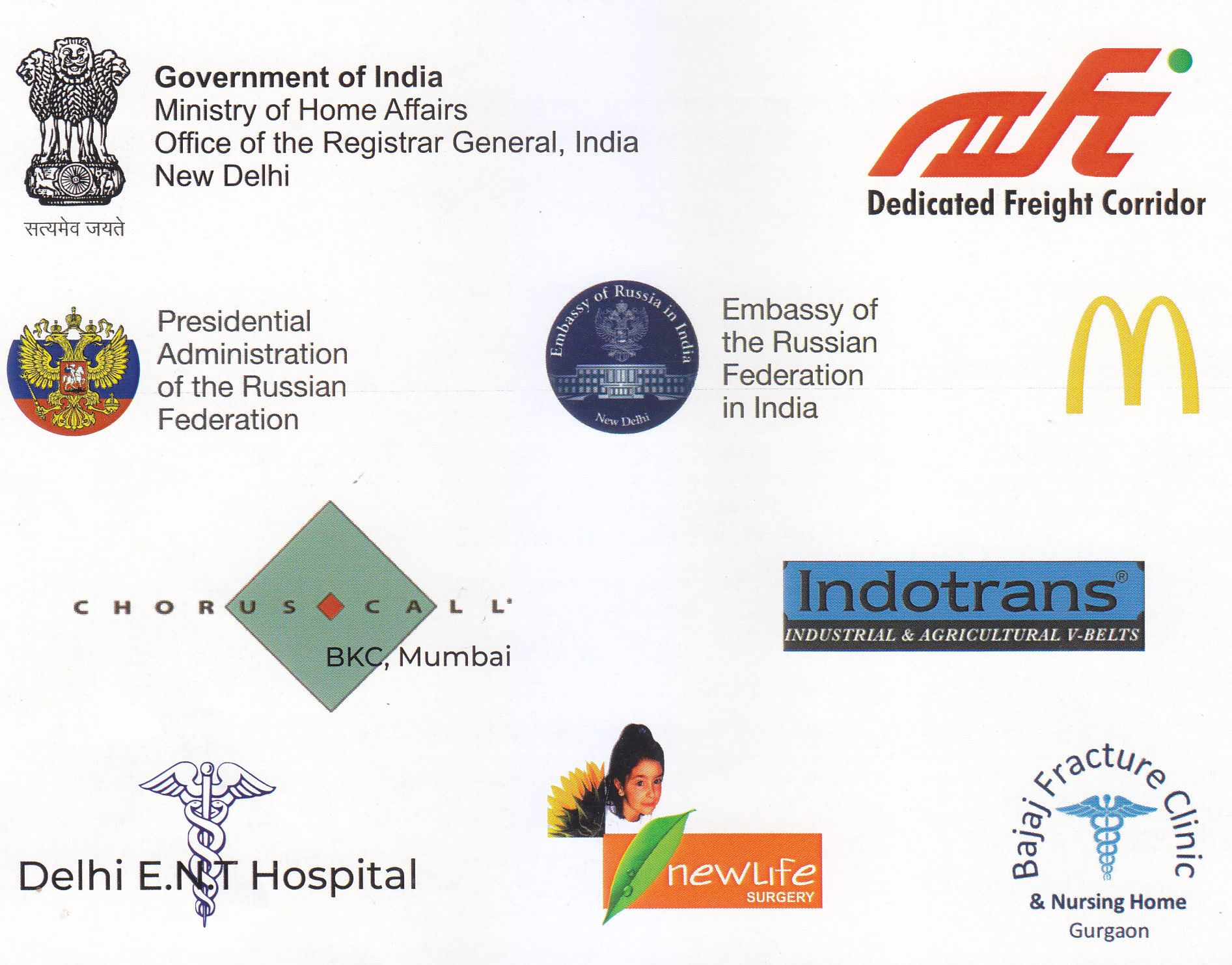 ---
Reference Material and Citations:
The History of Ultraviolet Germicidal Irradiation for Air Disinfection
New Method to Reduce COVID-19 Transmission - The Need for Medical Air Disinfection is Now
Effect of Ultraviolet Germicidal Irradiation on Viral Aerosols
ULTRAVIOLET AIR AND SURFACE TREATMENT
UV-C exposure dosages necessary for various log reductions
Upper Room Germicidal Ultraviolet Systems for Air Disinfection Are Ready for Wide Implementation.
DEFINING THE EFFECTIVENESS OF UV LAMPS INSTALLED IN CIRCULATING AIR DUCTWORK
Disinfection by Ultraviolet Light
How to use Ultraviolet light (UVC) to fight COVID-19 effectively
Using UV Light to Fight COVID-19 Spread
Aerosol Susceptibility of Influenza Virus to UV-C Light
Ten scientific reasons in support of airborne transmission of SARS-CoV-2